I used to think the farm was the whole world.  Seriously, I thought absolutely nothing existed beyond those crazy neighbor dogs along our property line.  And then one day I was packed into the car and taken to the VET.  I don't want to scare you with the details of that day so, I won't.   But, needless to say, I now know that the world consists of Old Town Farm and VET PRISON.
For you to understand how this world works, you must first understand THE PECKING ORDER.  This is better described as "the order of importance", (of those of us who live on the farm).  It is my theory that without the pecking order, the world would descend into chaos, the house and barns would implode, the crops would wither, the birds would fall out of the trees and, well, you get the picture.
As the top individual in the pecking order, it falls to me to establish the order beneath me.  This is not a particularly difficult task as it is almost completely "personality & intelligence" driven.  I have developed a formula for accurately placing each individual in the perfect slot.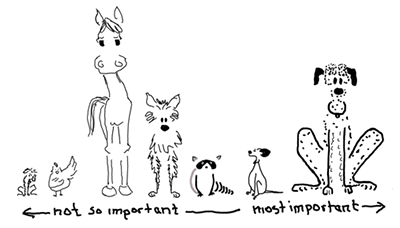 Where it gets hard is when other animals visit the farm…  such as the bosses' daughters' dogs, Zuni and Squid. (yah, I know.  "Squid" – what was she thinking)?  Then I must wedge these two into the lineup in an appropriate way that does not upset the animals below.
Because this is a complex issue, we have designed the above diagram to better explain how the pecking order works
Taken individually, I will explain the order from the bottom up: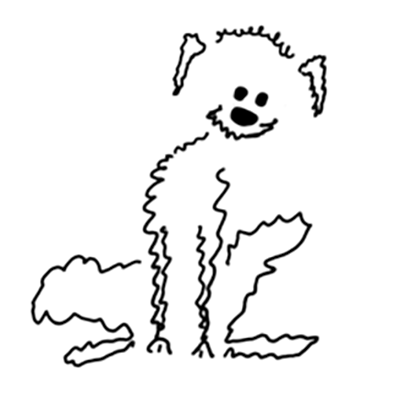 PEACH
1) She can figure out how to go out the doggie door but cannot figure out how to come in the doggie door.  Even the chickens, who actually have a doggie door on their coop figured this out in minutes.
2) They don't come any sweeter than curly little Peach, but she doesn't know how to perform any function whatsoever except for staring into space and sitting in laps.
CHICKENS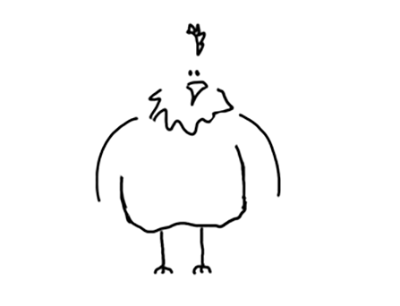 1)   They have mastered the doggie door, but, dang…I am being kind when I say these gals don't even tip the intelligence scale at a "one".
2)  They provide an endless supply of the best eggs in town, (trust me, I've eaten them when they fall on the floor), which places chickens just slightly above Peach.
*SPECIAL NOTE: There is a pecking order within a pecking order among the chickens that I do not get involved in.  It can be a little intense, (hence, the word "pecking").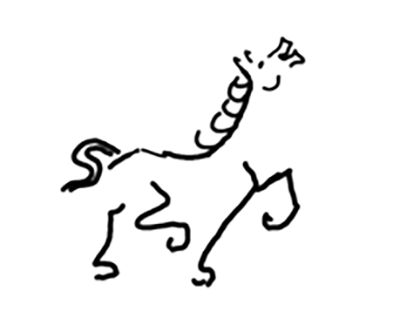 HORSES 
1)  These are the largest consumers of $ on the property.  Rico and Nicki have been around FOREVER.  They are each 30 years old this year and by my calculations have consumed  approximately $17,000,000.00 in hay and grain. However, by virtue of their overwhelming seniority, (age), and their many years of service back in the day, they rank somewhere in the middle of the pecking order.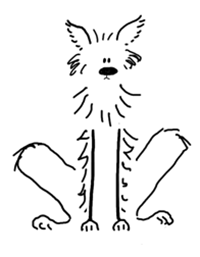 COYOTES
1)  They are smart and fast which places them pretty high in the rankings. These guys fall completely under my jurisdiction although they don't seem to be aware of it. They hang about at night which makes it pretty hard to supervise them and they creep me out with their high-pitched yipping.
2) While they would prefer to eat chicken, which they don't – due to my super vigilance – they end up eating a ton of mice, which makes the bosses very happy.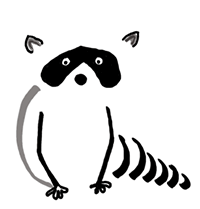 RACCOONS
1) On the opposite end of the intelligence scale from the chickens are the raccoons.  They would rank even higher in the pecking order but that would make Pickle mad at me and I have to live in the same house as Pickle so I don't mess with her positioning.
2) Raccoons have way too much time on their hands.  They will eat absolutely anything – so they don't waste a lot of time looking for food.  This leaves them plenty of time to wreck the shop at night where they knock everything off the counters.  I have some pretty incredible raccoon stories which I'll tell you sometime but, suffice it to say, they rank very high on both the personality and intelligence scales.  It's just too bad they're depraved.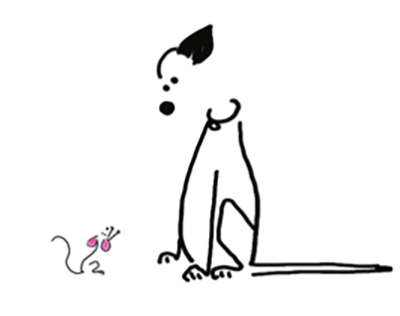 PICKLE
1) Pickle would be mortified to think she is in this pecking order at all.  Pickle  thinks she is a person.   She never looks at any of us with anything but  disdain, as if to say "Thank heavens I am not one of them".  At 17 years old, we all steer clear of Pickle.  I had the misfortune of accidentally waking Pickle up from a snooze one time and I am here to tell you I would rather nose bump a porcupine, (something I also have experience with).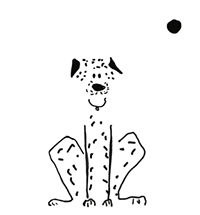 NUMERO UNO: FRANCO THE DOG, HEAD OF PROTECTION SERVICES
1) I was born management material
2) I am brave
3) I am a first class ball handler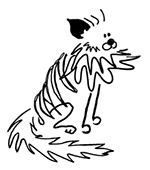 *THAT STUPID CAT
           The cat has been deliberately omitted from the graph because:
1) he is new to the farm and we are still assessing his position
2) some of us are still hoping he'll move on down the road
3) he is evil       
 ** You may have noticed we are now referring to the cat as
"he" rather than "she"…Like I said, we're still getting to know her, um..him…it.
Below please find the revised pecking order to accommodate Zuni and Squid
(and yes, there is a reason Zuni is in the #1 position…I'll explain later)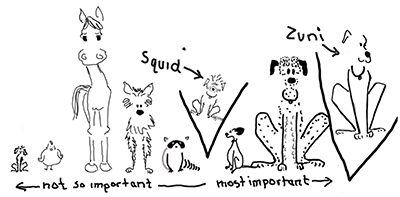 The squirrels and lizards have requested admission to the pecking order which is currently under consideration.  In the meantime, all is running smoothly at Old Town Farm.  I will keep you informed of any revisions.
Thank you for your time – Franco The Dog